Boards specially created for roofs. Combining the lowest level of thermal conductivity with the excellent dimensional stability these boards have thickness start at 30mm. Density of 35 kg/m3. These boards are striated. Half joint fitting to avoid thermal loss and facilitate the application.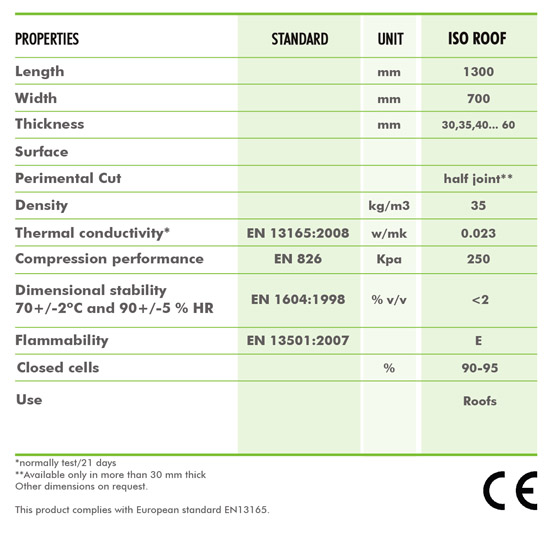 H
ow to use it / Inclined Roof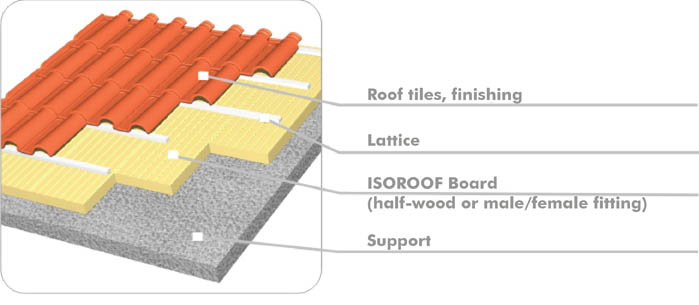 How to use it / Reversed Roof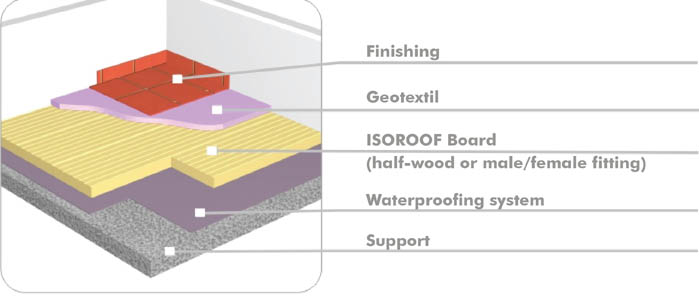 Click here to download the PDF technical sheet.
CAD / ISOROOF details:
| | | | |
| --- | --- | --- | --- |
| Horizontal roofs - ISOROOF | DWG | JPG | 3D |
| 001 - Isoroof - Light waterproofing protection | | | |
| 002 - Isoroof - Heavy waterproofing protection | | | |
| 003 - Isoroof - Insulator over waterproofing (inverted roof) | | | |
| | | | |
| --- | --- | --- | --- |
| Inclinated roofs - ISOROOF | DWG | JPG | 3D |
| 001 - Isoroof - Discontinuous thermal insulation and wooden structure | | | |
| 002 - Isoroof - Discontinuous thermal insulation and metallic structure | | | |
| 003 - Isoroof - Continuous thermal insulation and some fixation points | | | |
| 004 - Isoroof - Continuous thermal insulation | | | |
| 005 - Isoroof - Discontinuous thermal insulation and wooden structure | | | |
| 006 - Isoroof - Discontinuous thermal insulation and metallic structure | | | |
| 007 - Isoroof - Continuous thermal insulation and some fixation points | | | |